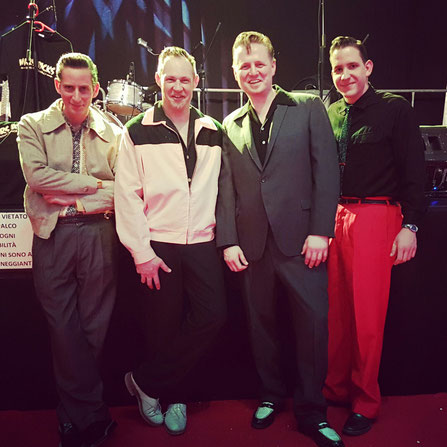 ho ho ho, it´s Christmas time pretty baby...
well, two shows coming up in December...two very special shows:
****first, Dec. 10th 2016 we´re gonna rock the main market place in Bellinzona (see flyer) -
this is gonna be our very first show ever with our new man on the skins - David Giudici ! welcome !****
****and, funny enough, our last show with our extraordinary drummer for the last 11 years -David Karlinger-is gonna be a week AFTER that. Dec. 17th that is...At the infamous Royal Rockers Club-come for good music and liquid dinner ;-o) Oh, and get yer ticket - it looks like it´s gonna be a sold out party (contact royal rockers / pip Federspiel )****
********And of course - thanks sooooo much for the last 11 years of rocking David!!*********
well, in any case, come out and see David play. and David. :-o) 
--------peace and rockabilly from outer space---------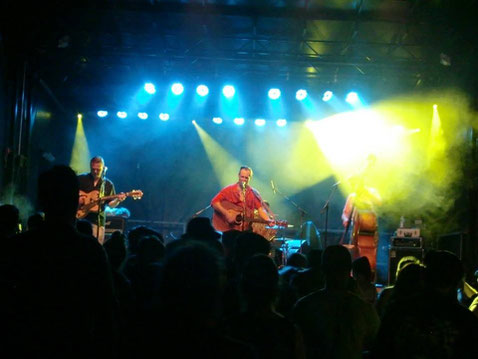 after a great time at the Southside Rumble in Melide (thanks for the pic Gilly),
we´re looking forward to rock at theeeeee OPEN AIR St. Gallen
(jack daniels zelt), 25.6.2015 !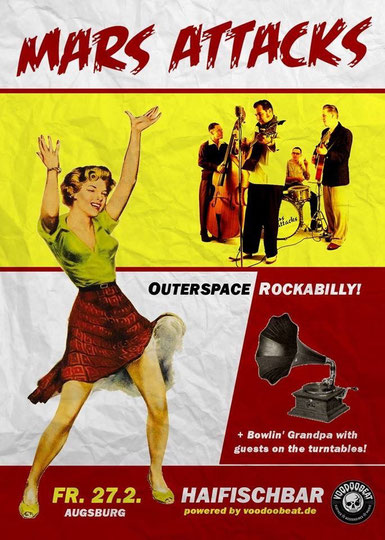 some of the next shows!
incl. the Memphis to Ronse Rootsshow in Belgium,

The Piston Shakers Event on Sep.6, and Staudacher Musikbühne Sept. 27!

see u there!

our first JAPAN in May 2014 tour was a blast!
check out many tour pics on our facebook home

www.facebook.com/marsattacksrockabilly

...or check out our photo section for a few pics!

many thanks to our japanese friends! what a great time!

..ok, just a short note: don´t forget our next dates...21.FEB Vevey, 22. FEB Lausanne (LAKE RATTLE AND ROLL), 28. FEB Club Vaudeville)....
UPDATE FEBRUARY 2014
nearly one year ago we´ve released our 6th album BLOOD AND THUNDER. And after only 6 months it was already reprinted! THANK YOU for buying it and making it such a sucess!! Also the reviews around the world were great!
theres one thing we all are still waiting for: Vinyl has still not arrived yet, but ...well, that´s another thing to look forward to isn´t it?
We can´t really get too much information out of our label right now...so...let´s see...
And there are some great news, we´ll return to the Club Vaudeville, Lindau, February 28th 2014 ...get your tickets early at the club or at Lindaupark (i punkt)....and! special guest is Danny B.Harvey  / USA!....see flyer.
still online...our video for the ballad "I gave you my life"..... wanna see it? check it out on our youtube channel: www.youtube.com/martiantube
that´s about it, hope to see you at our shows! 
UPDATE DECEMBER 2013
our shows are all on  www.reverbnation.com/marsattacksrockabilly
and also on this page!
VINYL ....it´s late....it´s complicated ;-) but it´s in progress....It will be OUT SOON! (according to our label in September 2013 - we will keep you posted!)
well, now it´s December...still no Vinyl. Don´t know what to say...we´ll keep you posted and wil try to get more information from our label.... 
"BLOOD AND THUNDER" is OUT NOW ! on I SOLD MY SOUL MEDIA.
The official CD Launch party was at the Club Vaudeville, Lindau, MARCH 16th 2013 and was a blast!
Meanwhile -it´s August 2013 - the CD is already being REPRINTED! thanks to all of you out there buying the album!!!
The gigs and photo section will be updated soon...but now....it´s vacation time!
Thanks to all the people that showed up,  and also to the Club V. and JOHNNY TROUBLE & DJ Pistolero Pepe.
Thanks to Tobias Köstl for the live pics.

Well, 15 brandnew songs on the album, only one cover. From blues boppers to rockabilly, from trumpet to harmonica ("blues harp"). ...and much more.....
We made a video for the ballad "I gave you my life"..... wanna see it? check it out here! OFFICIAL VIDEO RELEASE TODAY (FEB 9 2013)! check it out on our youtube channel: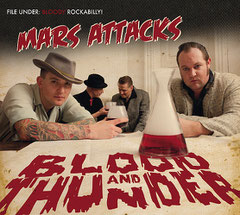 BREAKING NEWS!
out now! (March 2013)
the brandnew Mars Attacks album with tons
of new songs...featuring trumpet, harmonica
and some nice surprises.
theres also new promo pictures from the
Blood and Thunder shootings! check out
the PHOTOS section!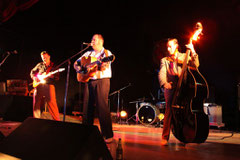 check out the PHOTOS section for
new pics from our
April/May 2012 AUSTRALIA tour!!
yep, Mars Attacks rocked down under!
theres also some new pics from the HIGH Rockabilly Spain, check it out!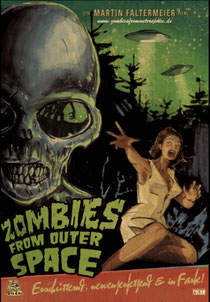 at the movies:
...well, one of our songs (Rocket in the Sky from the
RECAPTURED! album) is featured in this extraordinary
movie...check it out!!
http://www.zombiesfromouterspace.de/